KW series
The lever release system helped our original adjustable legs improved.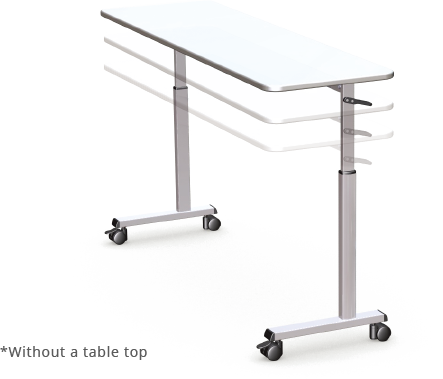 How to Operate
Ratchet lever release type
How to adjust upward

When adjust upward, step on the table base and lift the top
board with both hands. In this way. the top board goes up.
Each position is 3/4 inch (20mm) apart.

How to adjust downward

When adjust downward, hold the lever up and push the top board down. Release the lever at your favorite step, then the top board will be fixed.
Lever type
How to lift up the table
(When you make the table higher)

When you lift up the table, you step on its base while pulling up the lever.

How to lower it down
(When you make it lower setting)

When you adjust the height of a table by lowering down, you need to push the table top with pulling up the lever.
Adjustable height range (610mm~910mm)

The arm rest of the wheel chair under the normal table height prevent us from moving closer to the table. For the aged, the normal table height sometimes is unconfortable.
KOYO legman is the solution for flexible applications.
Accessory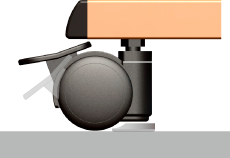 Lift-locked casterBy pushing down the pedal. the adjuster comes out from the bottom of the caster, and makes the table fixed.
Other functional fittings for tables