KVI series
Simple height adjustable pedestal leg Easiest operation of height adjustment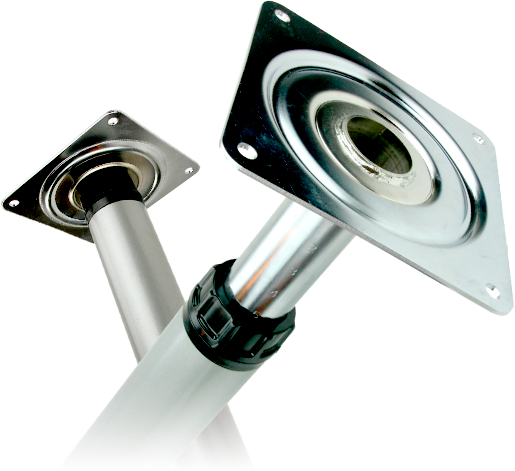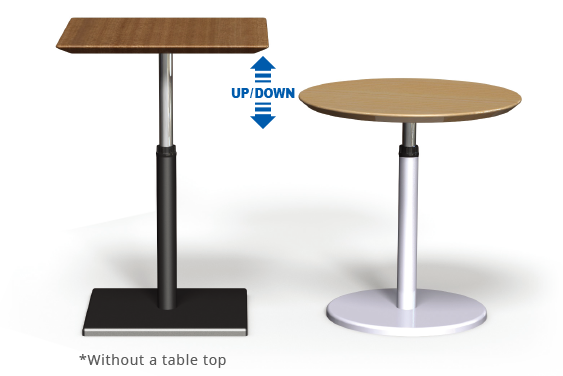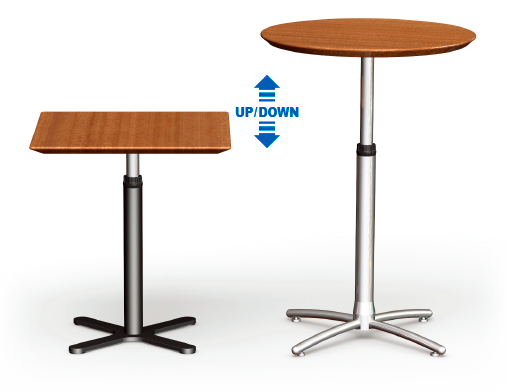 How to Operate
Simple height adjustment

Step on the adjuster at the bottom, and lift the table top upward until you hear the click sound. Lift the table top to the maximum height and then release the lock will be disengaged.

Lock Cap Mechanism

※Please make sure that lock cap mechanism is unlocked when you operate the table leg.
Adjustable height range
(Prop length:540mm ~ 840mm、640mm ~ 940mm)

*LH=Leg height (Without a table top)
Changing the height creates different communications.
Only one table can be used for office chairs, higher chairs, and standing positions.
| Base item code | width (A) | depth (B) | diameter (C) | base thickness |
| --- | --- | --- | --- | --- |
| MB400 | ー | ー | 400 | 24 |
| MB450 | ー | ー | 450 | 24 |
| KB3737 | 370 | 370 | ー | 26 |
| KB5537 | 550 | 370 | ー | 26 |
| XB550 | 400 | 400 | 550 | 100 |
| XB650 | 475 | 475 | 650 | 100 |
| JB550 | 400 | 400 | 550 | 32 |
| JB650 | 475 | 475 | 650 | 32 |

Formula of product code

Minimum Height

Adjustable range

Color

Base

Base color
Other functional fittings for tables